As one of the newly reopened permanent galleries at the National Museum of Singapore, the Surviving Syonan Gallery hosts brand-new exhibitions to honour the Singaporeans who endured the tough period of time post-World War II and went on to see Singapore progress beyond the odds.
More boring history? Not this time – the revamp has brought in new insight on life as it was during the Japanese occupation, with many details we've never heard of and artefacts from private collections.
There's a lot more to see than you think and with the benefit of free admission for Singaporeans and Permanent Residents, your transport fare will be the only thing you've got to fork out for a visit here that'll be worth your afternoon.
War-time Influence
Propaganda didn't just exist in posters and radio broadcasts; they were designed to take over every aspect of life. Imagine if you wanted to send a card to your friend and all the designs were of Japanese soldiers.
The painful lack of variety aside, you and the unfortunate recipient of your card would be forced to think about the Japanese occupation. Little details like this were pushed onto citizens to encourage acceptance towards Japanese rule during the war.
And even after you've sent a message to your friend arranging to go out, the only movies available would be ones praising the Japanese. Or you could go to an amusement park or a gambling den, both of which were pricey and essentially cash cows for the Japanese, yet still irresistible as stress relievers for those fortunate enough to be able to afford them.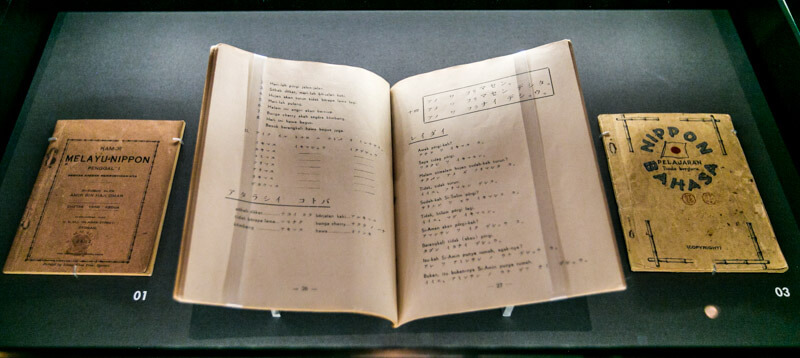 Oh, by the way, you'd have had to study Japanese in school and at work too. While this would probably be a choice made out of interest today, it was a resentful rule forced upon all Singaporeans back then.
Because of that, Japanese translation notes of all languages were printed to quickly convert the country to a Japanese-speaking one.
Life Goes On
As tough as life got, people still had to live and the one thing everyone needed was (you guessed it) money. The infamous banana notes were printed by the Japanese as a new form of currency, and although they became worthless towards the end of the Japanese occupation, they make good collectors' items today.
Take a look at the artwork chosen for the notes. Surprisingly, other than the words printed on them, nothing else gives away that the countries that used it were run by the Japanese.
The pictures are all references to life in Southeast Asia, and the term "banana note" comes from the illustration of said fruit printed on them as well.
There was no stopping everyone's regular pleasures, even with full-scale harsh rule bearing down upon the country. That's how hardcore Singaporeans back then were.
Many personal items like cigarettes and kueh moulds for treats were still a part of life, although many people probably reduced their consumption of luxuries during that time.
Love In A Hopeless Place
Cue Rihanna. The lyrics really sum up the relationship between Kok Wah and Yeok Ying (and all other war-time couples, actually), who got married during the occupation and made family life successful in spite of the hardships back then.
From near-death experiences to unexpected anecdotes, you'll get to hear all about their story from when they met to when they had children when you visit.
Plus, what's a love story without some snippets of intimate insight? Immerse yourself in love letters in an interaction spanning a relatively formal stage to familiarity between the two lovebirds in the post-war period.
And keep an eye out for a bit of a bumper in the relationship involving a misunderstanding; these things do happen outside of Korean dramas, who knew!
Dates & Times: Permanent gallery, 10am – 7pm (Daily), last admission 6.30pm
Price: Free admission for Singaporeans and Permanent Residents, S$15 for visitors
Surviving Syonan Gallery (Level 2) at National Museum of Singapore: 93 Stamford Road, Singapore 178897 | Opening Hours: 10am – 7pm (Daily) | Tel: +65 6332 3659 | Website | Facebook