I've tried several fitness classes recently and I gotta say, aerial yoga was definitely one of the more fun and interesting ones. I came across Upside Motion, after my spin class at Absolute You's OUE Downtown Gallery studio. Since I love trying out new fitness classes, I thought why not try aerial yoga.
Upside Motion is a studio that features fitness classes like aerial yoga and pilates. We visited their newest studio at OUE Downtown Gallery, which was less than a five-minute walk from Tanjong Pagar MRT.
Upside Motion
I really loved the modern and minimalistic decor which had a somewhat calming effect – this worked great cause I was really nervous at trying aerial yoga.
As opposed to regular yoga, aerial yoga is done with aerial hammocks- you're basically doing yoga in the air while being suspended with a hammock.
Aerial yoga increases upper body strength, core strength, balance and flexibility. It's a total body workout that involves strength training and cardio too.
The moment we entered the studio, our instructor Janie was super welcoming and made us feel comfortable straight away. Before class started, she adjusted our aerial hammocks. We started off with some light stretching.
During this time, Janie gave a little motivational pep talk which went along the lines of: "You're stronger than you think you are".
Initially, I was super apprehensive about whether this silk hammock could support my weight, even though Janie informed us that these aerial hammocks can hold up t0 2000 pounds (approx. 905kg).
The key was to "just let go" but I was paranoid that if I did, everything would come crashing down on me Final Destination style. Putting all my trust into this hammock took a while but eventually, I overcame my fear.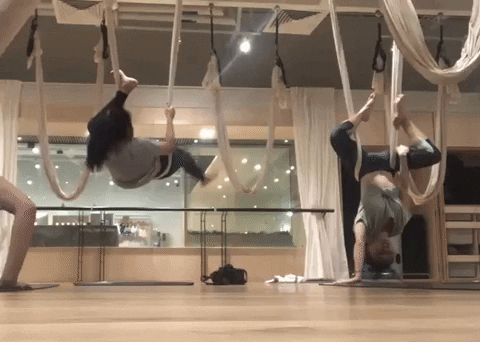 Things got harder when we had to do the inversions and I just had to make a gif of me struggling while my fellow partner seems way more accustomed to this feat.
Clearly, not all of us are equally gifted in aerial yoga.
Depending on the intensity, you can burn up to 320-380 calories in a one hour class. This class had a somewhat childlike quality to it, which I loved.
Swinging around in these hammocks made me feel like a kid again and it made me forget that I was actually exercising.
At the end of class, the instructor dimmed the lights and we did a resting pose, known as Savasana, in the aerial hammock. This helps slow your mind down and to relieve stress.
Now I know, it looks pretty creepy but it was so comfortable. This part was insanely relaxing and it literally made me wish that I had an aerial hammock in my room.
Upside Motion's aerial classes have been praised as being beginner-friendly by many media sources over the years and its very clear why. Our instructor Janie was so friendly and helpful. When we fumbled she encouraged us to try again because she knew we could do it.
This aerial yoga experience is definitely one that I'll never forget, especially when we were all hanging upside down and just laughed at how crazy we looked in the mirror.
My main worry was that because I have zero upper body strength, I wasn't going to be able to do well in this aerial yoga class that does require a certain amount of arm strength. But I learned that flexibility and prior experience isn't as important compared to being willing to try and fail. Just have fun and everything will go fine.
The drop-in rate is S$49 for one session but there are also packages you can get. There isn't an age limit for aerial yoga classes. However, participants under 12 years old need to be accompanied by an adult. Click here to check out their promo for new clients.
Opening Hours:
Mon-Fri: 7am-9:30pm
Sat & Sun: 8am-5pm
Upside Motion Shenton:
#B1-01/026A Shenton Way OUE Downtown Gallery Singapore 068815 | 

Website | Instagram | Facebook