Tired of the typical hotel facilities and seeking for more fun when you have a staycation? Your experience is about to get a whole lot better with lyf Funan Singapore, The Ascott Limited's largest co-living property in South East Asia.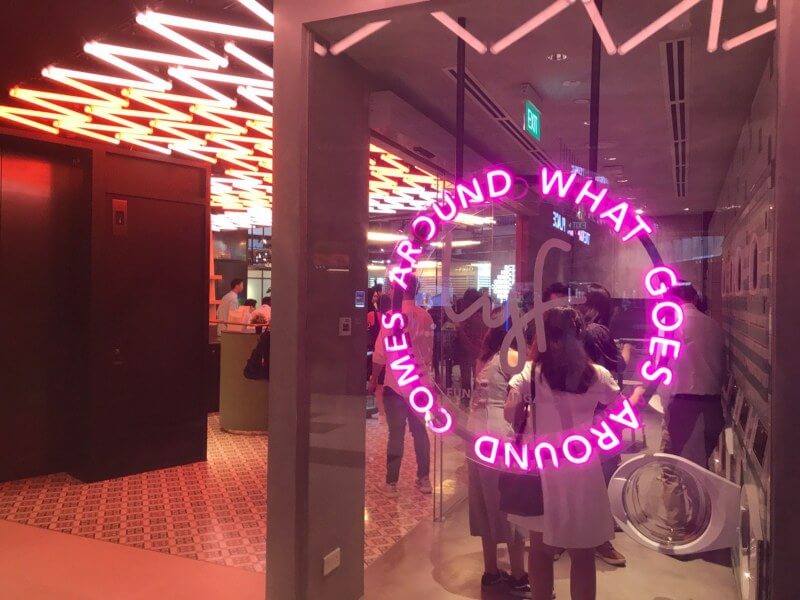 Targeting millennials, it is also the first property under The Ascott Limited's new co-living brand, lyf, designed and managed by millennials for millennials. We had the opportunity to have a first-hand look here.
lyf Funan is a property that has nine stories consisting of 279 units with the flexibility to offer up to 412 rooms. This property aims to redefine apartment living experience with more communal spaces for guests to bond through different interactive social activities.
Social Spaces
The 'Connect' communal spaces are also touted as "Instagrammable Zones" where the aesthetics of these spaces provide guests with pleasure to the eyes while conducting activities. These communal spaces are also used for workshops and weekly social programmes for guests to forge bonds with one another.
Guests can also prepare their meals at the 'Bond' social kitchen where cooking classes are held at as well. This kitchen design is loosely inspired by Masterchef and the cooking classes allows guests to learn more about global cuisines.
Instead of a typical gym that we are accustomed to seeing in most hotels, lyf Funan Singapore presents the 'Burn' social gym. Weights, kettlebells, total resistance equipment and human-size hamster wheels that function as treadmills are present for you to keep fit.
You can even hang around and have a game of foosball with other guests while waiting for your laundry to be done at the 'Wash and Hang' laundromat.
There are no fixed hospitality roles that we are so accustomed to seeing in a hotel, such as receptionists or room attendants. Instead, what makes this entire concept even more unique will be the existence of the 'lyf Guards' —millennials who are community managers, city and food guides, barkeepers and problem solvers all rolled into one.
Catering to the digital age right now, lyf Funan Singapore has its own 'lyf by Ascott' app where booking, payment, and access throughout the property are made via the app. You can also communicate with the 'lyf Guards' if you require assistance and users are allowed to make multiple bookings in just one single transaction. Get to enjoy discounts at various stores in Funan just by showing the mobile key as well.
Types of Accommodation
lyf Funan Singapore offers five interchangeable apartment types to accommodate single, dual or group bookings with rates starting at S$150++.
The One Of A Kind room consists of an 18 sqm studio unit with ensuite bathroom and a queen bed, catered for individuals as well as couples.
For groups of four, you can look at the 43 sqm Two Of A Kind room where it is a two-room apartment that comes with a kitchenette and two queen beds.
For gamers and those who are seeking for a little more entertainment, the lyf Style is an 18 sqm gaming-themed studio unit equipped with a PlayStation console for you to indulge in games. This room includes an ensuite bathroom and a pull-down sofa bed as well.
Up & Down is an 18 sqm studio unit that comes with bunk beds.
For bigger groups of up to nine guests, All Together is a viable option which consists of either a two-bedroom setup or six rooms duplex with a shared kitchen, a Samsung Flip interactive smart screen and a large table for work and to dine at.
---
lyf Funan Singapore truly brings a unique concept to apartment living and staycations. Instead of just bumping into strangers and not seeing them again, the interactive spaces cater for one to forge bonds with others and build new relationships. The apartment rooms also make team-building easier especially for corporate staffs and this dynamic environment will ensure an unforgettable experience. This will certainly be on my list of staycations.
lyf Funan Singapore: 67 Hill St, Level 4 Funan Mall, Singapore 179370 | Website | Facebook | Instagram