Tyler Durden made it clear that the first rule of fight club was not to talk about fight club. But, I'm about to break it.
Nonetheless, we're still going to reveal the gyms that'll teach you art of the mixed martial arts (MMA), which combines striking, grappling and an array of martial art styles. The Swiss Army knife of combat sports if you will.
Scattered from the furthest corners of this island to the CBD area that is peppered with gyms catering to office workers looking to hit something, besides their colleagues and bosses.  However, only gyms that teach a variety of martial arts have made the cut for this list.
So if you're dreaming of becoming Singapore's very own Conor Mcgregor, take note.
1. Impact MMA
Home to Royston Wee, the first Singaporean to fight in the UFC, Impact MMA has an impressive roster of professional fighters. But whether you're looking to go pro, compete or just pick up MMA as a way to keep fit, Impact MMA welcomes fighters and enthusiasts of all levels.
No harm training besides some of the best in the Lion City.
Specialising in Brazilian Jiu Jitsu, Muay Thai, wrestling and boxing, training here is a great way to expose yourself to the array of skills and disciplines needed to be proficient in MMA.
In the heart of the CBD area, you can go from office worker to warrior ASAP.
Impact MMA, 3 Shenton Way #03-06A, Singapore, Singapore 068805 | Facebook
2. Juggernaut Fight Club
A gym that has seen success in producing national athletes in the sport of boxing and wrestling. Juggernaut Fight Club doesn't shelter its members from the realities of the hard work that come with training for combat sport.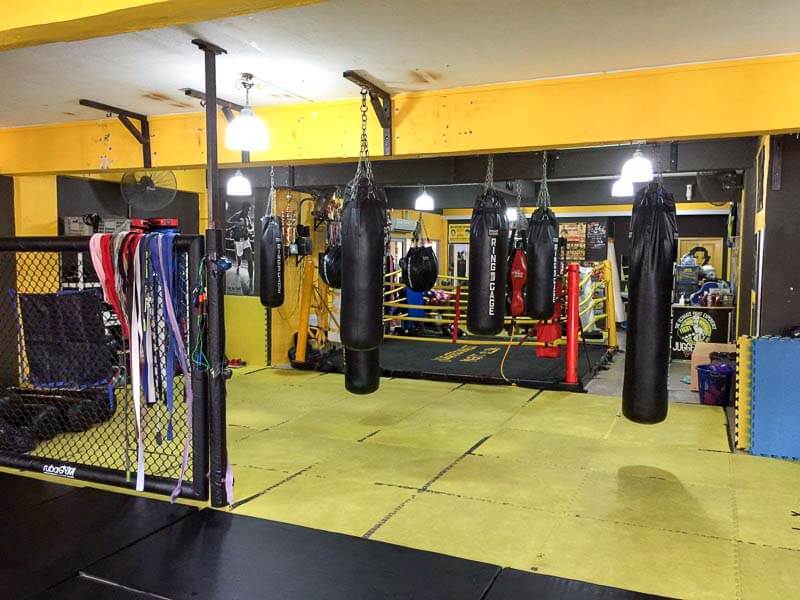 Under the guidance of Arvind "The Juggernaut" Lalwani and his team of international trainers, the gym dishes out sessions of boxing, Muay Thai, Brazilian jiu jitsu, wrestling and of course MMA.
Besides skill based work, expect to endure regular bouts of conditioning sessions that'll leave you fighting a battle in your head. To tap out or not?
Juggernaut Fight Club, 33D Hong Kong Street, Singapore 059672 |Facebook
3. Equilibrium MMA
A cool and modern MMA gym sits within *Scape in the heart of Orchard. In an area where scene kids head down to see and be seen, most MMA gyms don't welcome inflated egos and the overly confident.
Specialising in Brazilian Jiu Jitsu and Muay Thai, it may not offer as wide an array as some other gyms. But Equilibrium MMA offers conditioning classes and kids classes on top of regular martial art classes.
Equilibrium MMA has a strong foundation and team of Brazilian Jiu Jitsu practitioners, with Professor Takeo Tani  leading it.
Boasting an impressive career to date which includes being a former world champion, check out Equilibrium MMA if you're looking to learn the ways of the gentle art.
Equilibrium MMA, *Scape, 2 Orchard Link #03-06, Singapore  237978 | Facebook
4. Transcendence Mixed Martial Arts
With MMA shifting the focus of martial arts to competitive sport. Transcendence Mixed Martial Arts goes against the trend and chooses to return to tradition instead. With more focus on the values of various martial arts on top of skills.
While most MMA gyms profess and teach Muay Thai, Boxing and Brazilian Jiu Jitsu. Transcendence Mixed Martial Arts goes one up, with Aikido, Judo and Karate. Making them the gym to go to for a plethora of disciplines.
Balancing both the traditions of martial arts and the breath of modernity that MMA has brought to martial arts, it's a surprise that Transcendence Mixed Martial Arts isn't as popular amongst enthusiasts and fighters.
Transcendence Mixed Martial Arts, 294A Lavender Street, 

Singapore 

338807 | Facebook
5. Onyx MMA
Raw, gritty and probably the least hospitable in terms of comfort of MMA gyms in Singapore. Onyx MMA has forged a reputation for themselves as a no nonsense gym when it comes to training. However, what happens after hours is another story.
No air conditioning, zinc roofing and fencing instead of walls, there's little protection from the often oppressive tropical humidity. Prepare to perspire — a lot.
With a lot of emphasis on striking arts like Muay Thai and boxing, this isn't one of the most diverse gyms if you're looking to dabble in a variety of disciplines.
However, Onyx MMA has earned a reputation for producing competitive fighters acclimatised to the weather of Singapore. If that wasn't hard enough, you can always take it up a notch or two with gas masks and sauna suits I guess.
Onyx MMA, 600 West Coast Road, Singapore 127445 | Facebook
6. Trifecta Martial Arts
Trifecta Martial Arts boasts not just one solid MMA gym but three. Spread across the island, each gym offers a different set of martial arts for everyone. Because, everyone is welcome at Trifecta Martial Arts, probably one of the most family friendly MMA gyms in town.
With a strong emphasis on children's lessons, there's no doubt that they're deserving of the title. A premier martial arts gym, Trifecta Martial Arts is those looking for the added comforts.
Trifecta Martial Arts Bukit Timah, 100 Turf Club Road, Horse City Bukit Timah, Singapore 287992 | Facebook | Novena, 18 Ah Hood Road #04-51, Singapore 329983 | Facebook  | River Valley, 81 Clemenceau Avenue #03-11, Singapore 239917 | Facebook
7. Fight G MMA Academy Singapore
The OGs of the mixed martial arts scene in South-East Asia, Fight G or Fight Generation aren't a slowing down or showing signs of ageing. Rolling with the punches that all gym owners MMA or not face in Singapore, opening their doors in 2002.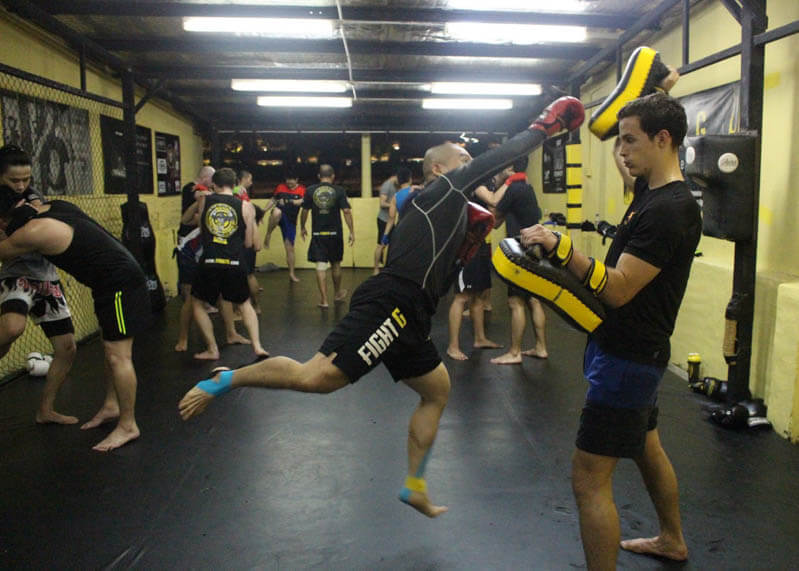 Within the confines of their shophouse, fighters and and enthusiasts alike train in quite the variety of martial arts. Including no-gi grappling, which is similar to many submission style martial arts without the "gi" or the gear most associated with martial arts.
The baggy pants and top that's complete with coloured belts that are attained by proving one's ability.
Fight G MMA Academy Singapore, 41C North Canal Road, Singapore 059297 | Facebook
8. B'Valetudo Fight House
Getting their name from the anything goes combat sport vale tudo originating from Brazil, B'Valetudo Fight House is one of the newer kids on the block. However, a gym not to be taken lightly or any less seriously than the other gyms in the list.
With a team that gets regular exposure to legitimate organised fights big or small, there's no doubt about the eagerness of B'Valetudo Fight House to make their mark on the local MMA scene.
B'Valetudo Fight House, Bukit Panjang 7 Gambas Crescent, Singapore 757087 | Facebook 
While letting a movie like Fight Club influence your life so heavily may be a pinch dangerous. Under the professional guidance of the trainers at these gyms, put your reservations aside and take a swing at MMA and get a hold of your life.