These days, it's all about riding on the "bespoke" trend to express your style and personality. Guys, if you're about to pop the question to the love of your life, here's a tiny piece of advice: a single solitaire engagement ring isn't going to cut it anymore.
I guess round cut diamonds aren't really a girl's best friend anymore. Fret not if she falls under this category, because here are some gemstone alternatives to add a sparkle in her eyes.
1. Ethereal Bespoke Ring by Fairy's Inc
Aptly named Fairy's Inc, every design created by the humble bespoke jeweller is ethereal and fairy tale-like, aiming to tell a story of the couple's love.
The entire detail of the ring is customisable; from the gem that is to take centre stage, to the designs that make up the entirety of the bride's personality.
And even though the "fairies" may only know little about you from snooping through your social media profiles, they sure have that sprinkle of magic dust up their sleeves to ensure you'll say "Yes" to both the ring and your beloved.
Fairy's Inc.: 402 Orchard Road #03-03, Delfi Orchard, Singapore 238876 | Tel: +65 6235 5570 (appointment appreciated) | Website | Facebook
2. Désirez l'Amour by Maubossin
There's something romantic about a Rhodolite gem, especially when it's set in a flower-shaped ring head, atop a rose gold band with paved diamonds.
Mauboussin's Désirez L'Amour Ring will certainly set her heart on fire.
Mauboussin Singapore: Various Outlets | Website | Facebook
3. Colombian Emerald & Branch Detailing by Kristine Wong Fine Jewels
Vibrant and bending towards brides who love nature, this bespoke ring by Kristine Wong is made with vivid green and natural Colombian Emerald, diamond leaves and 8K matte yellow gold with branch detailing.
Kristine Wong Fine Jewels: Website | Instagram | By appointment only
4. Rose Quartz Engagement Ring by More Than Diamonds
Understated and minimalist, the Rose Quartz Engagement Ring by More than Diamonds is effortlessly charming.
I can only imagine pairing this with a curved wedding band that will snugly fit the bezel setting — psst, stackable wedding rings are super trendy these days!
More than Diamonds: 131 Tanglin Road, #02-16 Tudor Court, Singapore 247924 | Tel: +65 6235 8873 | Website | Facebook
5. Black Onyx & Solid Gold Niamh Vintage Ring by Elverd Designs
For brides who steer away from the conventional, the Black Onyx and Solid Gold Niamh Vintage Ring exudes confidence with Onyx that is further enhanced by 44 natural Black Spinel stones; if this doesn't grab attention, I don't know what else will.
Black Onyx is said to strengthen and heal. It offers protection and fortifies confidence while guarding against negativity — this sure sounds like a happy and resilient wife is in the making when you slip this onto her finger.
The ring is made of Solid 9K Yellow Gold, which can be customised to your preference of 14K and 18K gold in rose or white gold.
Elverd Designs: 420 Joo Chiat Road, Singapore 427641 (flagship store)  | Tel: +65 8575 9556 | Website | Facebook
6. Giselle Ring by Glamira
I've seen various gemstones on rings, but having a pearl as the centre stone is the icing on the cake. Just think of how unique it'll be to have this statement number on your finger.
The Glamira Giselle Ring is entirely customisable with a click of a few options including ring material and colour, pearl size and colour, engravings and accent stones. You'll definitely end up with a ring that's truly unique.
7. 
Classic Pear-Shaped Sapphire Engagement Ring by 

Blue Nile
Tear-shaped sapphires elevate the piece with an alluring deep blue colour, bringing a contrast to the ring. While the centre stone features a diamond, you could steer away from the classic solitaire with a Marquise cut, which lends the piece a vintage feel.
8. Pink Spinel Set by Madly Gems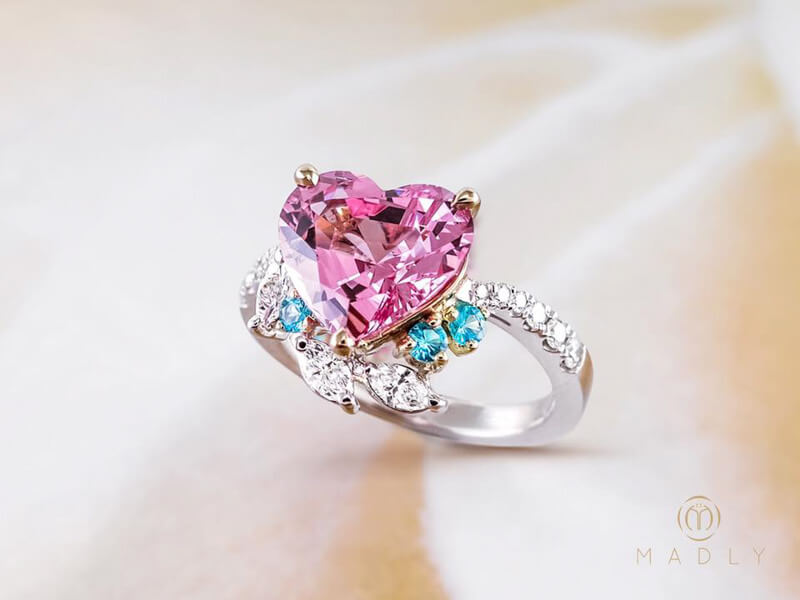 Boasting a heart-shaped pink spinel and various gemstones that symbolise your undying love — why wear your heart on your sleeve when you can display it exuberantly on her finger.
Madly Gems: Block 72, Seng Poh Road #01-63, Singapore 160072 | Website | Facebook | By appointment only
9. Rare Lighting Ridge Australian Black Opal Ring by Les Precieux
Reminiscent of the pristine waters of the ocean, the Rare Lighting Ridge Australian Black Opal Ring Set in 18K Yellow Gold is truly one-of-a-kind. Watch it glisten in its spectral colours, and you'll be sure it'll steal her breath away even with the passing of time.
Black opal is said to be one of the rarest gemstones on earth and that alone is a good reason to present this to her.
Les Precieux: 360 Orchard Road International Building #11-04, Singapore 238869 | Tel: +65 9647 2673 | Website | Facebook
10. Luminous Ice Jade Ring by Choo Yilin
There's always the bride who's a little traditional at heart; after all, "something old" could take the form of a gem that has transcended the age of time, far into the dynasties where royalties took pleasure in Jadeite.
Choo Yilin specialises in Jade-centric pieces that are timeless, along with a collection of sapphires, rubies and other precious stones in its arsenal. What's not to swoon over this Luminous Ice Jade, adorned with diamonds and encased in 18 karat gold.
Choo Yilin: #02-23 Mandarin Gallery, 333A Orchard Road, Singapore 238897 (flagship boutique) | Tel: +65 6733 1131 (by appointment only) | Website | Facebook