Call me late to the game but wireless bluetooth earphones only came on my radar after Apple ruthlessly removed the earphone jack from their newer models.
What I've realised since is that once you go wireless, you probably can't go back – it's just so convenient! While the Airpods are one of the most popular choices, here are five other truly wireless earphones you can get in Singapore. 
1. Sudio Nivå
Swedish label Sudio's designs rival Apple's in terms of sleekness and the Nivå is no exception. Unlike the others in this list, it's not equipped with many fancy schmancy features. Rather, it gets its job done at the most wallet-friendly price.
Available in White and Black, the compact earpiece has a 10m range with 3.5h of battery life. The accompanying charging case is chic and holds an impressive four additional charges, bringing the total play time to 17.5h.
CreditThough I haven't tried the Nivå yet, I actually own some of the older models and can vouch for the brand. You can't go wrong with Sudio – shipping is free and there's often 15%-off discount codes floating around! Just Google.
Price: S$165 | Available at: Sudio
2. B&O Beoplay E8
The Beoplay E8 from Bang & Olufsen is a high-end, luxurious earpiece designed with premium materials to ensure its durability and longevity. Operated by touch control, the earbuds come with 4h of play time while its charger case holds two additional charges, bringing the total duration to 12h.
Besides being sweat and water-resistant, the Beoplay E8 has a unique Transparency Mode, where users can decide the degree of noise-cancellation for their earpiece. There are three adjustable levels to "let the world in".
In all honesty, it was the gorgeous exterior of the limited-edition Powder Pink version that caught my attention rather than its features. But, the Beoplay E8 is also available in classic colourways of Black and Charcoal Sand.
Price: S$429 | Available at: Lazada & Various Retailers
3. Jaybird Run True Wireless Sport Headphones
Designed for runners, the Jaybird Run is supposed to hold up against sweat, rain and mud. Its interchangeable fins also ensure that the earbuds are locked in place through the most vigorous of workouts.
The Jaybird Run comes with a total play time of 12h – 4h on the earphones and 8h from the charging case. Its fast charge function is a game changer perfect for desperate times, as plugging it into a power point for five minutes yields an hour of play time.
Users can even customise their listening experience by adjusting the bass and treble levels using the Jaybird app! This tough pair is available in Jet and Drift.
Price: S$299 | Available at: Various retailers
4. Bose SoundSport Free Wireless headphones
Since music has been proven to boost one's energy during workouts, brands have come up with their own renditions of the perfect earpiece to deliver this boost.
With a whooping 15h of play time – 5h on the earpiece and two additional charges on the charging case – the Bose SoundSport earpiece has the longest play time in this list. However, it's also the bulkiest amongst the other contenders.
The SoundSport features water-repellent mesh and is controlled by a multi-function button that allows users to play, pause and skip tracks or to pick up and end calls. It also has a similar, albeit less impressive, quick charge function where a quick 15-minute charge yields 45 minutes of play time.
Price: S$319 | Available at: Bose
5. Earin M-1 The First True Wireless Earbuds
Dubbed as the "first true wireless earbuds", we had to include the Earin M-1 in this list as it's the ancestor of all wireless earpieces. The petite model started off as a Kickstarter project and predates even Apple's Airpods! The Swedish label released their earpiece in 2014 while Apple only released theirs in 2016.
The M-1 comes with a 3h play time and its accompanying charging case, known as the Capsule, provides three additional charges. This is another good workout companion as it's sweat-resistant and equipped with stabilisers to ensure that it remains comfortable and stays in place.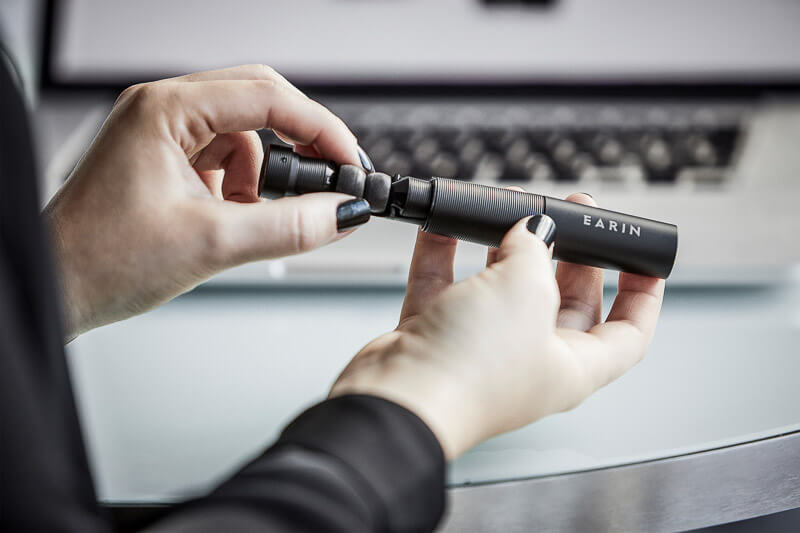 In addition, the Capsule is the slimmest charging case of the lot – fits in your pockets and is pretty much the size of a tube of lipstick.
Price: S$229 | Available at: WeAreReady.SG
– –
The frazzle of untangling cords is now a thing of the past with truly wireless earpieces. While there are many other options out there, these five are amongst some of the best. This list has something for everyone, from the everyday person to serious audiophiles or athletes.
Wireless earpieces are seriously worth the investment seeing as they're so convenient and portable! So, have you found one that's caught your eye yet?