Daiso is a name I am confident all of us are aware of, and in fact, some of you might frequent Daiso. When Daiso opened its first THREEPPY outlet in Funan Mall, it made me curious. I made my way down to have a look at this 'premium' version of Daiso to examine the products and see if it could live up to the name of the Japanese hypermart.
Unlike Daiso,  the sign "Always $2" isn't plastered anywhere in the shop. In fact, not even any other amount. I figured that the prices here, unlike Daiso, are not a flat amount. After exploring for a bit, I realised that it was true- the items in this store do not all sell for the same price. The prices here are either S$5.80, S$8.80 or S$15.80. As you can see, the price of S$5.80 is roughly three times the price of the items in Daiso, hence the name THREEPPY.
At first glance, other than the similar signboard, the items that ThreePpy aren't that similar to Daiso. In fact, when I first saw the store, another familiar name popped into my head- Miniso. Yes, that is what the items here are like. No funky toys, Japanese snacks, or even drinks. Instead of a Japanese hypermart like Daiso, it resembled more like a gift shop.
For The Girls
It seems like one corner of the shop is reserved for beauty products and accessories.
There are a few beauty products in the shop, such as makeup brushes, pocket mirrors and even nail polish in all colours of the rainbow. These items all go for S$5.80 each.
There is also a huge selection of accessories, ranging from rings, keychains, earrings to even watches. They retail for S$5.80 as well, with the watches being the only exception at S$8.80 each.
Bags And Containers
We all have that one friend who wants to reduce waste on Earth. Or maybe you're that guy. Don't worry as ThreePpy has a variety of items that make this mission easier.
For S$8.80, you will be able to purchase an eco-friendly bag, which comes in two options. One of them is able to fold into a compact pouch for you to store small items should you not need an entire bag, and also one perfect for going grocery shopping.
If you would like to reduce your usage of plastic containers when you dabao food, you can also purchase a lunchbox for S$5.80.
For The Kitchen
THREEPPY has a large assortment of kitchen products that Mom would definitely love.
You will be able to find unique jars that will solve the problem of mistaking salt for sugar (S$5.80).
Other things perfect for Mom include kitchen utensils, mittens and even crockery.
Smartphone Gadgets
Near the cashier, you'll see a rack of smartphone gadgets which all retail for S$5.80.
On this rack, there are a few nifty things such as phone rings and clip-on wide lenses amongst other accessories.
However, one thing that I have never seen before is this little tool you can keep in your pocket that you can tie your earphones to. Definitely very handy in dealing with those tangled wires. And they look cute too.
What impressed me was the cute collection of rubber iPhone cases for sale. They came in many different shapes, such as a dog, coffee cups, french fries and pancakes amongst many others. At S$5.80, it feels like a reasonable price to pay for a handphone case. Sadly, I only saw cases for iPhone 6/6S/7/8. We can only hope they bring in designs for other phone models soon.
For The Home
Need some things to spruce up your home? THREEPPY has a few things for you.
You can find unique decor for your home here in THREEPPY in the form of tree stump cushions (S$8.80), as well as wall decor (S$5.80) that you can stick on your wall to imitate the appearance of bricks or wood. There are also different kinds of mats (S$5.80) that are sure to find a place in your home.
There's even a pet bed for your little furry friend at home, and it costs a whopping S$15.80- the most expensive price tag in THREEPPY.
But here's where I was slightly disappointed with THREEPPY. Unlike Daiso, which has shelves and shelves of storage containers, the selection at THREEPPY was very limited. And the S$5.80 isn't justified when you can just visit Daiso and have more options for only S$2.
Gift Ideas
When I said that ThreePpy resembled Miniso, the first thing you thought of was most probably the shelf full of stuffed toys. And yes. THREEPPY has just that. The prices of these cuddly animals are either S$8.80 or S$ 15.80, depending on the size of the toy.
Aside from the toys, there is a huge selection of drinkware. Whether you are looking for cups with straws, tumblers or even simple mugs, ThreePpy has got you covered with its plethora of designs, for only S$5.80.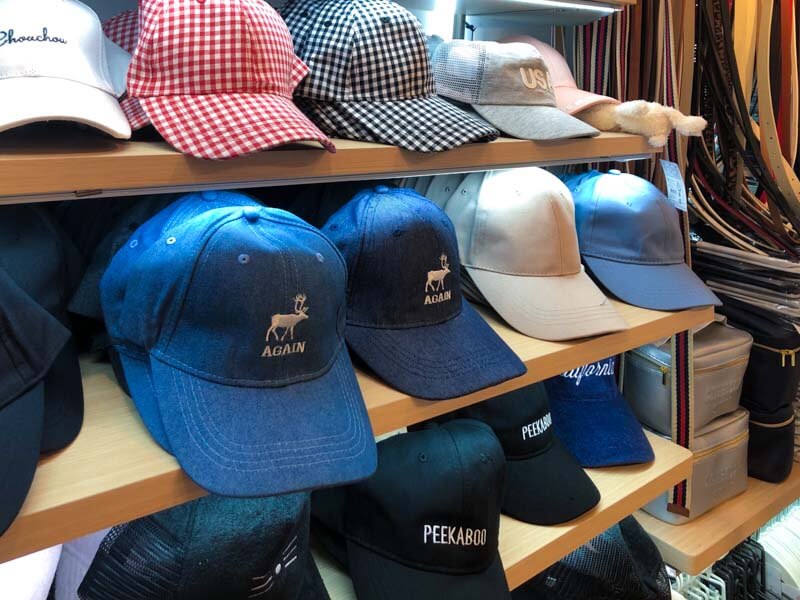 There are even caps in all sorts of designs for only S$5.80. Most of them don't have anything noteworthy, but this one cap with the word "Chouchou" really stood out.
Oops! My Slippers Broke!
Well… If that happens to you while you are in the vicinity, just grab one of THREEPPY's plastic sandals, which resemble the notorious sandals from Crocs and Birkenstock.
Is THREEPPY Worth A Trip Down?
I would like to add a disclaimer that the items above are not the only things that are being sold at THREEPPY but rather the main category of items you can expect from my visit there. I could go on and on, however, to have a full experience of what THREEPPY has to offer, the best way is to personally visit it yourself and browse through the racks.
After exploring the store for an hour, I realise that THREEPPY really isn't very similar to Daiso. While you will definitely find similar items such as house decor in Daiso for a cheaper price tag, THREEPPY offers a variety of unique gift ideas, although for the price points of S$5.80, S$8.80 as well as S$15.80, I think you might probably find something similar on Taobao for cheaper.
Of course, there will be those of you who would prefer to view an item physically and buy it immediately rather than purchasing something online, and here's where I think a trip to THREEPPY will come in handy when you are searching for that perfect gift.
Prices: S$5.80, S$8.80, S$15.80
Operating hours: 10am – 10pm daily
THREEPPY By Daiso: 107 North Bridge Road, Funan Mall, # B1-17, S179105 | Website | Tel: 6970 0860